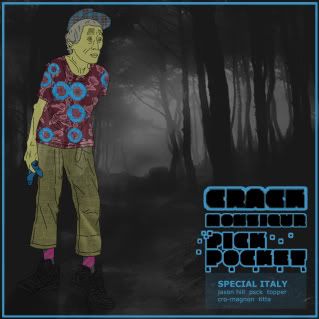 "PickPocket" label is based in Montpellier (South of France) and was founded in 2008. With a lineup of pure professionals dedicated to their craft, this release is nothing short of excellent.
Hello to everyone and to those who just caught up.
We have been planning this second release for just about six months. Indeed, you also have probably noticed, the coming of fresh new and grounbreaking talents made in Italy. They caught our full interest. Therefore, we went along to meet these skilled persons, here gathered for the friendship they have.
This month menu will be served with Topper, Jason Hill, PSCK, Titta. A special distinction awarded to Cromagnon, duet composed by PSCK and NANO who deliver their first signature.
We would like to thank our dear friends Kane Roth (Archipel) and HUGO (ToniMusic - Tuning Spork) for their precious help for sound mastering.
We wish you a pleasant listening!
We look forward to interact with you again in a few months for our new project, the very first PickPocket album by OIRA who hails from ST Petersburg, Russia. Until next time, take care and tune in ;-)
Visit our website:
www.pickpocketlabel.com
01 - Topper - Via saluzzo 66
02 - Cro Magnon - Underneath dei scroto
03 - Jason Hill - Purple love
04 - PSCK - Cleros fags
05 - Topper - Civoli (bonus track)
06 - Titta - Waiting room
Mastering made by :
- Kane Roth (Archipel - Lessizmore)
- Hugo (ToniMusic - Tuning Spork)
Z-Share